Mill logs for machined log cabins or log homes, square logs, D-logs or round logs.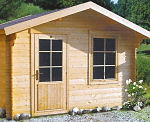 To order, or for more information on the Krusi Log Home Milling Machine, send us an or call us toll free at 1-800-350-8176.
Timber Tools is your North American representative for Krusi of Switzerland, serving the USA and Canada.
Log Home Milling Machines
Increase your efficiency!
Process logs in a single pass on one machine.
Swiss Efficiency. Precise and Robust.
2. CHOOSE YOUR TOOLING:
• Round logs,
• Square logs or
• D-logs
3. BUY JUST AS MUCH MACHINE AS YOU NEED.
• Expand when you're ready.
CM-40 Log Home Mill
If you manufacture machined log structures, whether of square logs, D-logs or round logs, our Krüsi CM-40, the well-tested Log Home Milling Machine, may be right for you. Over 800 manual and 23 CNC log home milling machines have been installed to date. These log mills operate in many countries and in many different climate zones.
Watch the CM-40 Log Home Milling Machine in action:
Perform precise end joinery in one process without moving the timbers or re-clamping.
End cuts, milling and drilling processes are performed on the same working plane.
Configure to suit your log manufacturing needs.
• Tooling for round, square or D-logs
• With or without the sawmill unit
• With or without the end lap milling unit
• With or without CNC-controlled, hydropneumatic automation

Above: CM-40 with cap saw, vertical, horizontal mill, boring drill, end mill
A log home mill built to last - robust construction
• Enduring, precise processing accuracy.
All guide tracks for the processing units are of very tough carbon steel, hardened, tempered and polished to the highest precision.
• Smooth operation from the pre-stressed and dust protected ball bearings.
• Enjoy safety and operating comfort from the automatic and electric relay controller.
• Made for years of trouble-free operation.
Integrate with your CAD design.
The CNC log home mill, CM 40-CNC, is designed for square log or D-log production. These Log Home Mills can automatically prefabricate house elements from a CAD design, allowing the house to be assembled on the construction site in one to two days.
Krusi CMI Industrial Log Mill
See the CMI Log Home Milling Machine in action: